Martinů, Bohuslav: Works for Cello and Piano - CD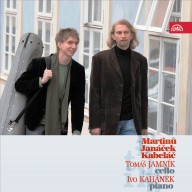 On store now
Your price: 265 CZK
Regular price: 279 CZK
Availability:
to order
Est. delivery date in CZ:
to order, about 2 weeks
After a number of other successes including master classes with Jirí Bárta, Heinrich Schiff and Steven Isserlis, young Czech cellist Tomás Jamník (b. 1985) proved the extent of his talent by winning the 2006 Prague Spring International Competition. This student of Josef Chuchro chose 20th century Czech works for his first Supraphon recording, and Martinu holds a privileged position in his repertoire. His surprisingly mature rendition of the Sonata No. 2 and Variations evince a deep understanding of the personality and musical language of the composer. His youthful temperament finds a voice in Janácek's Fairy Tale, then melds the individual compositional structure of Kabelác's sonata with its lyric and character. Pianist Ivo Kahánek (b. 1979), winner of the Prague Spring International Competition in 2004, far surpasses the bounds of a mere accompanist, and is rather Jamník's equal and partner. We believe that after you hear this recording, you will remember the names of these promising young musicians for some time to come!